«Some company recently was interested in buying my "aura." They didn't want my product. They kept saying, "We want your aura." I never figured out what they wanted. But they were willing to pay a lot for it. So then I thought that if somebody was willing to pay that much for my it, I should try to figure out what it is» – The Philosophy of Andy Warhol (From A to B & Back Again, 1975).
Andy Warhol believed "aura" was something only other people can see and they can do it because they want to, because it's in their eyes. People want to live, taste, breath the fame of celebrities, the projection they have of their idols.
In Maxwell N. Burnstein's collages, the "aura" of golden age Hollywood icons relives as a symbol of the modern society, founded on the construct of celebrity culture. If, in the contemporary pop culture, most of the icons are celebrities, not all the celebrities can be icons.
Nostalgic and disenchanted feelings emerge in the collages of the silver screen big actors «against landscape photography of eroding Los Angeles to disrupt the illusions of fame». The resulting artworks deconstruct the traditional celebrity portrait, confronting the golden era with the eminent death of the city, which captured their essence.
Canadian mixed-media artist Maxwell N. Burnstein's handmade artworks confront the rise in digital collage art with traditional analog techniques. We talked to him about his last exhibition Death of an Icon.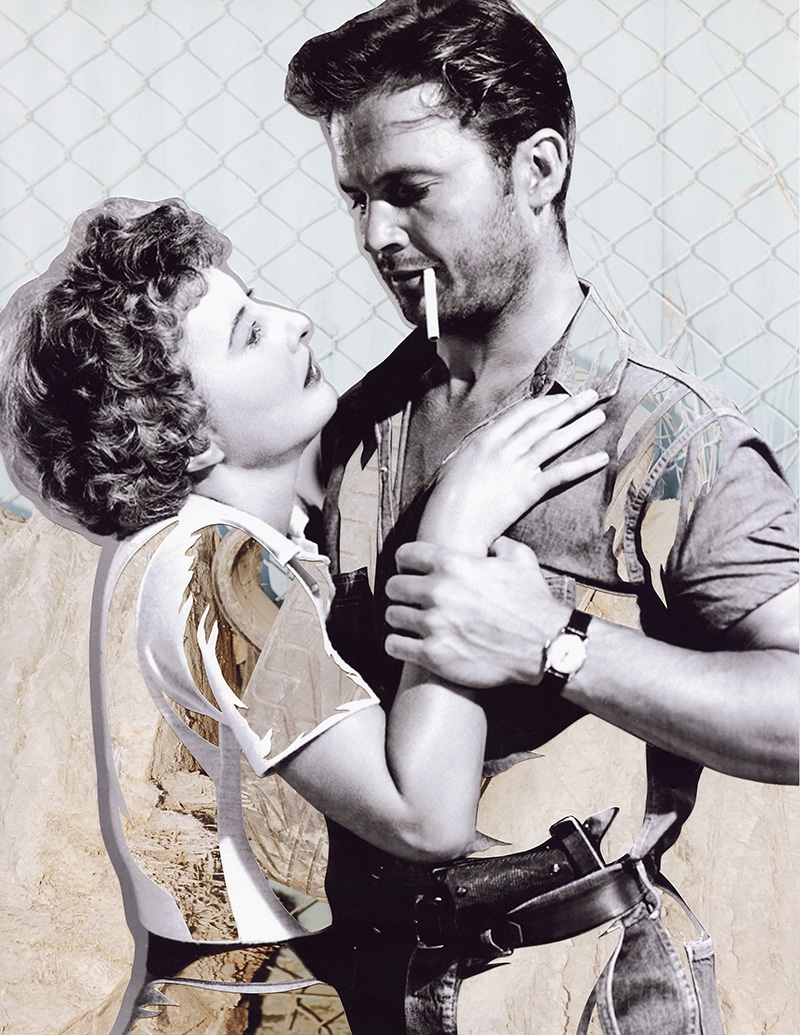 What inspired Death of an Icon?
Iconic moments from film and the figures that portrayed them have lost their intrinsic value through the mass dissemination of imagery. Death of an Icon is a collaged commentary on the construct of celebrity culture, reacting against the reproductions of Old-Hollywood that proliferate on social media.
Analog collages merge icons of Hollywoods 'golden-age' against eroding Los Angeles landscape to contrast perceived and nostalgic portrayals of Hollywood from the reality. The exhibit series is currently on view at the W Hotel in New York City's Time Square through March 2018.
What does the narrative of the project mean to you? Why Death and not Birth?
The exhibition pays homage to the represented celebrities whose legacy we mourn. The figures embodied the essence of their era, a style and sophistication we lost with their death [like Marilyn Monroe].
Marylin Monroe, Audrey Hepburn, Veronica Lake, Clint Eastwood, your works evoke the ubiquitous of celebrity status… Why did you choose these icons from the past as protagonists of your artworks? What do you think about the contemporary celebrities?
Celebrities of Old Hollywood (1920-1960) projected a glamour that's artifice transcended into the digital age. The studios that managed their careers maintained public images that are still held up in popular culture.
Remaining nostalgic for the characters portrayed on screen and in their personal lives, pop-culture is constantly looking to reproduce these key moments. This same desire doesn't resonate with the fleeting cycle of celebrity culture we experience today, looking to the past like everyone else for inspiration.
On the idolatry of celebrity culture today… What do you think about it? Do you think we are most victim or supporter of this culture?
Britney Spears "An American Tragedy" was the by-line for Britney Spears 2008 cover story on RollingStone. The black and white portrait of remorseful Spears still burns in my mind, a lesson on America's need to destroy the monarchs they appoint. Celebrities get to live on as immortal if they make it through the public scrutiny we all passively contribute to by just being engaging in the culture.
In your opinion what is the role of fashion system in this construct?
Dress culture chronicles the sociological, economical and political climate of each time period. The projected style lets audiences understand who that individual is and where they fit in the context of the films narrative, like Audrey Hepburn in Breakfast at Tiffany's.
Your works are the result of a strong connection between art and fashion, how do you combine these two fields?
Fashion has been a subject matter I've explored through my artwork. Stemming from an education in fashion and experience producing imagery, I can see fashion in photography as an extendable layer. I look to shape, silhouette and fabrication in the depicted clothing when cutting a window into the single layers I merge to form an artwork.
About the process of your work… Why did you choose the collage as art form?
In Death of an Icon you worked with Jason Barbagelott, capturing the pollution, poverty and resulting lifestyle many LA natives face, to be collaged against the idea of Hollywood cast on screens.
Can you explain more about the procedure of the creation of your artpieces?
Using an x-acto knife to deconstruct photography, the layers are reassembled to create a new message through the artwork.
Working with Jason Barbagelott to capture original photography of Hollywood, the resulting artworks disrupt the traditional celebrity portrait sourced for the foreground layer. Collaging icons of the silver screen against landscape photography of eroding Los Angeles disrupts the illusions of fame.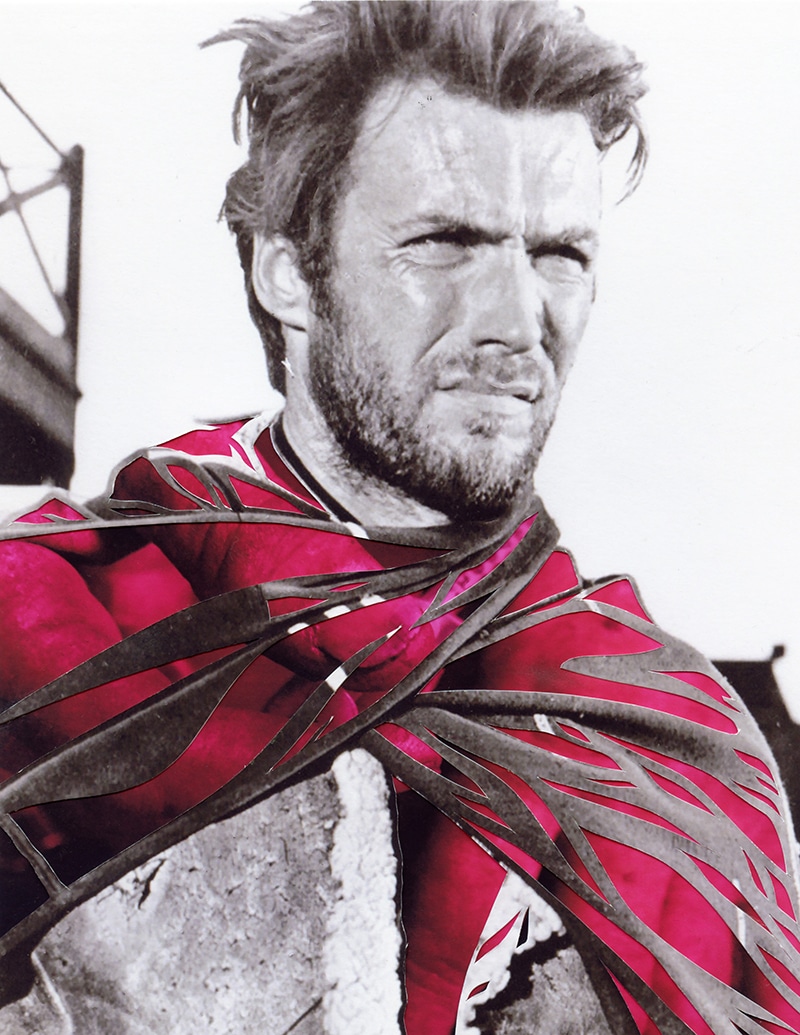 Social networks (Instagram, Twitter, Facebook, etc…) are a huge tool for the promotion and presentation of the self and the celebrity culture… What's your relationship with them? How do they influence your work?
Instagram is credited as my primary portfolio and index for acquiring job opportunities.
A collection of the industries reigning leaders gives artist direct access to the employers they seek, companies they want to collaborate with and cultivate personal relationships with their creative pier groups.
I look to my direct competitors in trying to collectively drive the collage moment, accrediting the artistic application of collage as a style, not a fad.
What's your next step now? What do you expect from your future?
Death of an Icon was unveiled at Contra Galleries in New York City on October 12, 2017, before being assumed by the W Hotel in Time Square for exhibition through March 2018.
The W New York Time Square also played host to the exhibition series Dreams, layering historical images and glitter in celebrating the cities heritage that launched in November 2017 [available for private viewing and sales through Contra Galleries].
An anniversary cover for Elle Magazine in India, collaboration with G-Star Raw, national campaign for Kit and Ace, to taking up a contributor role at V Magazine and V Man have kept me busy as I gear up for new projects through 2018.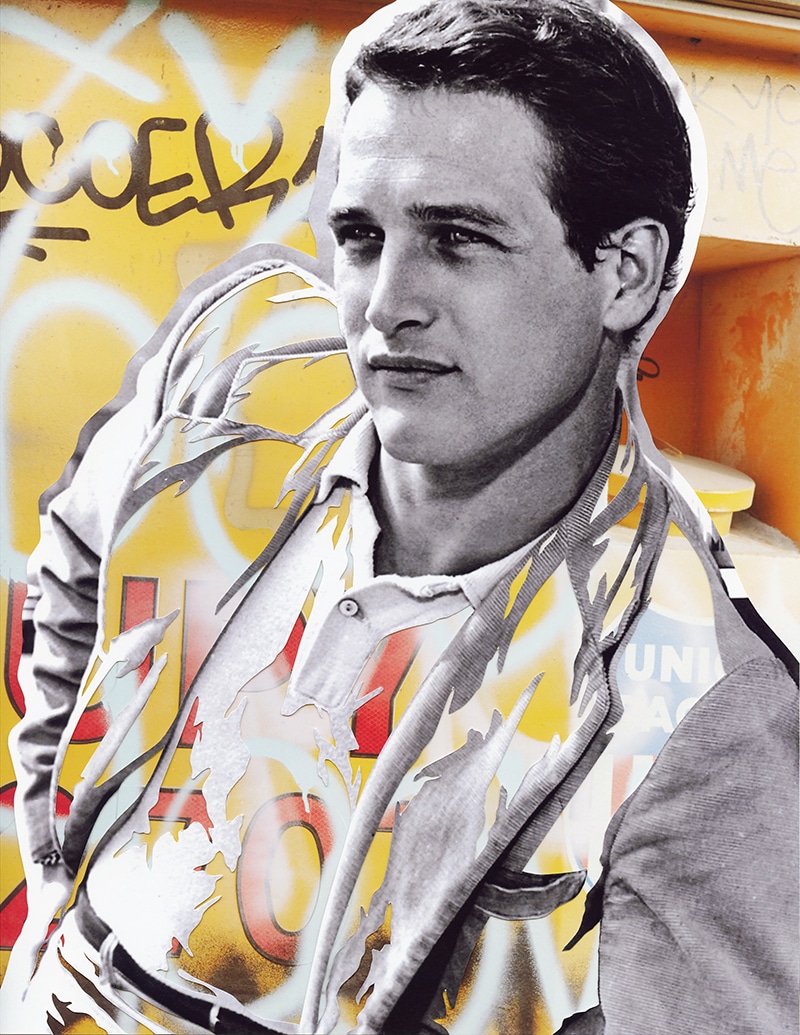 Artist Bio:
Exploring the collage art form throughout his youth, having no formal training in mixed-media arts, Maxwell N. Burnstein (1991) came to establish a style in the last year of his undergraduate. "I have continually refined my technique and pushed my abilities, working on more complicated compositions and stretching the scale of my exhibit works" said the artist. Burnstein's dedicated artistic path in Canada has resulted in an elevated status overseas, acting to champion Canada's fashion industries and global brands abroad. He has done this through the development of exhibitions for the W Hotels and Resorts worldwide, covers for Elle Magazine, collaborations with Harper's Bazaar, V Magazine to Dolce&Gabbana, to name a few.