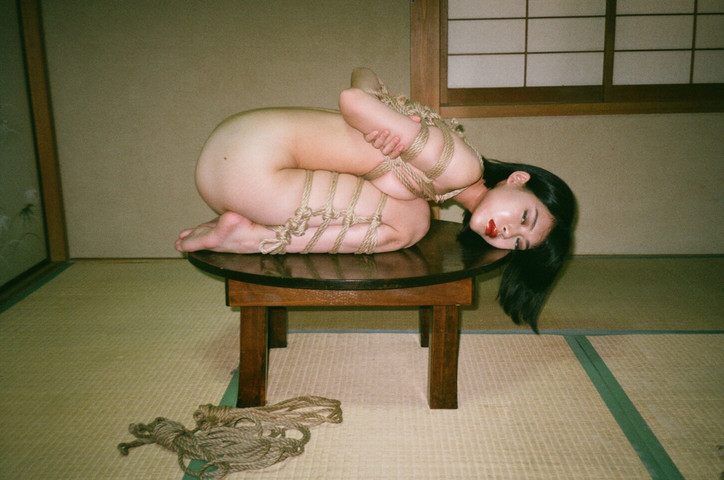 See our office exclusive story on Tokyo's full-female tying team, below…
Most of the people I know who are into the stuff would not openly admit it. They hide their ropes in bars or at a friend's place, have their faces covered or cut out in pictures. It's seen as shameful, perverted, misogynist and pornographic. It is exactly because of these reasons that I got into Kinbaku…
I got into Kinbaku because I come from a fashion background, and see kinbaku from an artistic perspective. When I tie I'm focused on the creative process, poses, colors, compositions, being able to convey the story and emotions in a picture. I often try to draw inspiration from fashion, film, humor and irony. I hope that people will be able to differentiate and understand the artistic side.
I do often try to desexualize the sexual subject of Kinbaku, make my pictures look innocent and romantic. I love being able to see girls be so vulnerable and so strong at the same time. I'm always trying to show that Kinbaku is more than a sexual kink.
For example the model reminiscing on a lost love, and intimate moments she had in that relationship. In those pictures audience can be seduced into conjuring up their personal sexual experiences…
My Kinbaku work and fashion design and editorial work really all feed into eachother. It keeps life interesting and spicy.