Exploring the Legacy of The Prolific Italian Designer
Text:

Romany Williams

Images/Photos Courtesy Of:

Massimo Osti Archive (Select)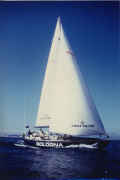 The modern history of sportswear is archived in a restored 1930s farmhouse in Bologna. It houses more than 6,000 garments and 55,000 textile samples, each possessed with the story of a past life. The majority have been meticulously collected, studied, dissected, and resurrected under the hands of Massimo Osti.
In the early 1970s, while working as a graphic designer, Osti was approached to design a line of t-shirts. He utilized silkscreening to print his custom graphics, an atypical method in Italy at the time. The small collection sold out almost instantly. This successful side project instigated a lifelong wave of experimental garment innovation up until his death in 2005 at the age of 59. From 1971 to the early 2000s, Osti was responsible for a catalogue of brands including C.P. Company, Stone Island, Boneville, and Left Hand. From Supreme to NikeLab, Kanye and Gosha, his work remains embraced by industry fixtures. For many, sporting a Stone Island badge on their left arm or wearing a C.P. Co. goggle jacket still symbolizes a commitment to substance over hype. "I design clothes for a man who travels across the planet, through different environments; nature, traffic, pollution, the urban adventure," said Osti. "I've always thought that my clothes had to respond to real needs."
Osti was an engineer, a self-described designer of "clothing-objects" for practical use. He was addicted to subversion and reinvention, to the merging of tradition and transformation in pursuit of seamless function. The idiosyncrasies of his work build a narrative of exceptional ingenuity, a legacy that honors the past while provoking the future.

TELA STELLA
---
In 1996, the works of obscure Bolognese painter Piero Manai hung on the walls of Osti's studio. Manai was obsessed with body language. Through the exaggerated curvature of the spine or the sinuous ligaments of legs, his massive coal drawings of dark and haunting figures evoke an immediate need for self-reflection. In his work, the anatomy of human experience is laid bare. Where Manai expressed his understanding of humanity through nude figures, Osti spoke through fabric.
Stone Island started in 1982 with a military truck tarpaulin. Osti avidly collected military gear because of the high level of research involved in its design. In these tarps, he saw potential. Their raw feel was too tough, so Osti softened them with stone washing. Additional experiments resulted in a new, wind-resistant fabric: Tela Stella. His work with textiles sought to express the complexities of the human form. He engineered fabric to achieve homeostasis of clothing and body. Transforming purpose-built, utilitarian fabrics into wearable objects was Osti's way of expressing his belief in the symbiotic relationship between what we wear and how we feel.

ICE JACKET
---
Osti built Stone Island's 1991 thermosensitive Ice Jacket to visualize information. The Ice Jacket changes colour with temperature fluctuation, morphing hues with chameleonic ease. Both utilitarian and intelligent, Osti engineered cerebral sportswear.
This is precisely why he didn't believe in traditional fashion shows. He viewed their orchestrated atmospheres as a barrier to examining the specificities of one's work. In 1985, Osti was editing C.P. Magazine, a publication devised to showcase the brand's technicalities. A photography studio in Bologna with a Canon machine that produced 1:1 scale images enabled him to photograph, photocopy, and scan, illuminating and dissecting his jackets in brilliant, large-format detail. The influence of this style can be seen in brand campaigns from Carhartt to Issey Miyake.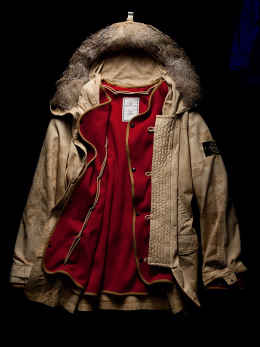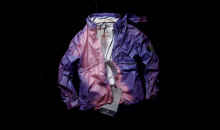 MILLE MIGLIA
---
C.P. Company's 1988 Mille Miglia jacket materialized out of fanatical R&D. Osti had been gathering and examining protective anti-gas hoods worn by the Japanese Civil Defence and became determined to give goggles a contemporary context. When C.P. Co. sponsored Italy's 1988 Mille Miglia vintage car race, his creation found a perfect name and home. The labels fastened onto each C.P. Company garment read "Ideas from Massimo Osti."
Margaret Thatcher was still Prime Minister in Great Britain at the time, and the nation was experiencing record high divorce, unemployment, and poverty rates. The Mille Miglia fit in there, too. It gave football hooligans and disenfranchised youth the perfect vessel to channel their frustrations against an increasingly elitist system. Osti's work for C.P. Co. and Stone Island was embraced by England's Terrace and Casual subcultures, as well as Italy's Paninaro scene—young men who gravitated to the work because of its distinct adaptability.
A prophetic designer, Osti saw the imperative of clothing that defends against a hostile worldwide climate. "He was a kind of sociologist," said his wife Daniela Facchinato-Osti, "looking at the people and trying to figure out what they don't have, what doesn't exist, what they don't know they need." Today a vintage Mille Miglia can go for upwards of $1,500 online. Global inequality is ubiquitous, and the price of survival is at a premium.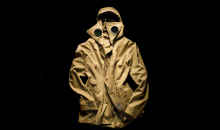 ICD+
---
In 1996, the Italian film director Gabriele Salvatores was working on his now-cult cyberpunk film Nirvana. The main character, Jimi, is a computer game programmer who spends his time manufacturing digital dystopian cityscapes, his figure constantly illuminated in the darkness by a blue computer screen. Salvatores needed a wardrobe for Jimi that complemented the bizarre equilibrium of his environment, so he turned to Osti. Inspired after their consultation, Osti started building technical outerwear out of PVC to reflect the ominous glow of back-lit computer screens on camera.
In 2000 came the ICD+ collection . Designed by Osti in collaboration with Philips and Levi's, it's widely considered to be the first commercial wearable electronics garment. Osti knew technology would become integral to the human experience; he saw efficiency as the cornerstone of a nation addicted to being busy. The ICD+ (Industrial Clothing Division) jacket came in four styles, equipped with custom pockets for the Philips Xenium mobile phone, the Rush MP3 player, and headphones, all connected by a removable wire harness. Syncing each device in an ergonomic and aesthetically-pleasing package, the ICD+ ostensibly turned its wearer into a digitized personal area network. Years before one iPhone satiated all of our needs, Osti fully integrated life and work into one jacket.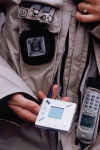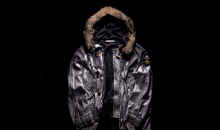 It's 1981 in Bologna. Just before Osti is set to finish the latest collection for C.P. Company, he learns his factory has burned to the ground along with all of the original samples and most of the brand's history. The following year, eight men armed with guns robbed his newly-rebuilt factory, stealing all of the designs and sketches for his second brand, Boneville. Osti believed it was one of his competitors who stole the sketches. He reacted like a true inventor: he started again from scratch.