Set Your Teeth on Edge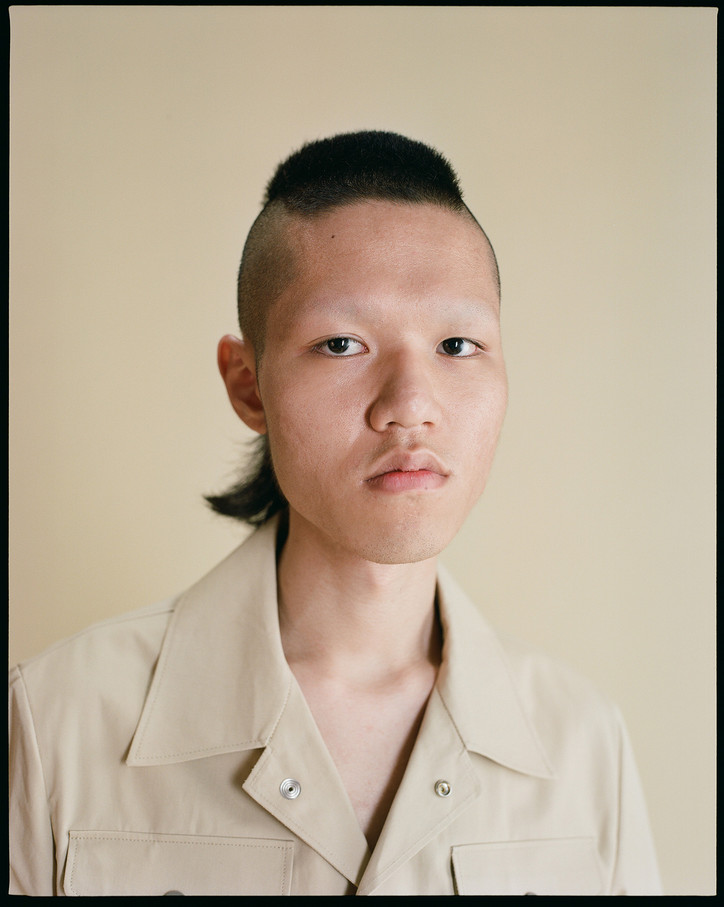 There is more wisdom in your body than in your deepest philosophy. -Friedrich Nietzsche
Irving wears dress from SIRLOIN
Irving Cheung, Art Director, Costume Designer, Artist
Nominated for Best Art Direction at Hong Kong Film Awards in 2013 for "Rigor Mortis", and this year for "The Empty Hands".
What's your favourite Chinese idiom related to body & sensation?
如芒刺背 (prickle on the back) – means being anxious. Rather than pain, what I suffer most from is the spiral disorder since I was 11 years old, as well as undergoing three spinal fusion surgeries. I constantly feel itchiness under my skin that is impossible to scratch, resulting from mismatch of my sensory nerves. So for my MA degree project I've made an "Itchy Dress" by attaching markers on my fingers and scratch whenever I felt itchy; the dress was a body map of my day-to-day inexpressible discomforts.
How is body sensation has influence on your filmmaking work?
My complex body sensation leads me to understand that these type of hinges create who you are. I would try to live like the characters to understand how they function. I often try to visualize the state of mind of the person with different setting of everyday objects. In my work, there are often a mixture of abandoned objects like useless cable, dead flowers, empty bottles, broken chairs, all sitting quietly next to each other in their own rhythm. When surrounded by these objects, the character somehow sinks into it and becomes part of the set.
Your work often involves reinterpreting traditions. What traditions have influenced on you?
I spent my teenage life in Northern Ireland before I went to London for University. The boarding school I lived in was over 100 years old, I didn't think it was so special, until I was back in extremely modernised Hong Kong. I miss every detail of the old times. I like the texture of the old walls, the rusty Chinese signs, that you could still find in the lively environment of Hong Kong.
Bobby wears bra, brief, boxer & socks from SIRLOIN
Bobby Shuk Pui Yu, Multi-disciplinary Artist
Awarded for the Best Actress at the 2014 Golden Sugarcane Film Festival in Taiwan, for her performance in "Room 12".
What's your favorite Chinese idiom related to body & sensation?
體無完膚(injured all over the body) – often used figuratively for damages inflicted by verbal attacks. I had a big fight with my lover, my destructive words came out unconsciously and were like blades cutting through his skins.
Your works involve your own body or whose of the participants. How do body sensations influence your work?
My art is ambiguous; the direction is not always clear and can fluctuate. Often, my mentality changes the status quo through creation, however, creating more problems and making the situation more confusing. Every time I make love, I often tell to my partner: "I'm sorry, my vagina is too complicated and not turned on yet." This is exactly the same as with art. To achieve the central idea of works through the control and non-control of the body's emotions and desires can ultimately depend on the body's feelings for what can and cannot be done. I've become more obsessed with the authenticity, perhaps artistic creation is the constant pursuit of the freedom of uncertainty. This is not an avoidance of real life. Instead, it is a more positive attitude and behavior with the intention of seeking freedom in creation.
Kidney wears blouse & brief from MOTO GUO, with few of his most favorite pieces from his toy collection. Including, necklace DIY with a Energy Lock Seed from Japanese television series Kamen Rider Gaim, dumpling monster by Japanese toy artist Satoru Doki of Yamomark, Fuku Bear from Hong Kong-based Sofubi brand Don't Cry In The Morning, and a buckle from Japanese television series Ressha Sentai ToQger (Left). Kidney wears jacket from SANKUANZ (Right).
Kidney CHUNG Social Phenomenon, Self-proclaimed "Internet Brother" 
(Cantonese internet slang, an amiable way to address male user on forums)
Kidney creates visuals, T-shirts, pins & zines, filled with local Hong Kong elements. In his zine "The Monster City", Kidney compares Momzilla, and Hongkongers who are encumbered by job & mortgage and all kinds of social pressures, with the monstrous creatures in the classic Chinese mythology "Shan Hai Jing" (Classic of Mountains and Seas). Kidney also collects art toys with bizarre characteristics, and wishes to create his toy design one day.
What's your favourite Chinese idiom related to body & sensation?
未學行先學走 (run before one can walk) – many people think that in order to start working on something, you have to first learn and become an expert. I think "walk before you can run" limits your ways of thinking.
What kind of creative would you like to be?
I want to speak with my work and not only through social platforms, to be persistent, producing the best quality with the least cost and implications and to do something related to my local culture.
Jayers wears gloves from SHUSHU/TONG
Jayers KO Tattoo Artist, Writer
JAYERS KO studied psychology at university, and is the author of "A Book About The Tattooed People In Hong Kong".
What's your favourite Chinese idiom related to body & sensation?
血脈相連 (tied with blood and veins). Tattooing is a huge part of my life, not only does the visuals inspire me greatly, but the history, the spirit and of course the human interaction within this art form. I've always felt that I'm connected with the rest of the world, but with tattooing it's even more obvious. From the people who did tattoos thousands of years ago, and to those who I'm tattooing now. The second word in the idiom "脈" means veins, is pronounced the same way as "ink "墨" in Cantonese, so it also sounds like blood & ink are tied together, which describes how I feel of being in this family or even religion of tattoo.
What's your most memorable experience story about tattoo?
A lower leg sleeve filled with 20 different kinds of vegetables on a chef. Obviously he's very passionate about his job just like myself. We became very good friends.
What do you love most about Hong Kong & Sham Shui Po, where your studio is located?
I love Hong Kong for its insane combination of the old and the new, the intense concrete jungle right next to a good hike in the nature, the mix of Western and Eastern culture. I have my studio at Sham Shui Po, because it is still one of the very few non-overdeveloped, super local old parts of the city.
Jason wears pants from PRONOUNCE & tank top of his own.
Jason MUI, Designer
Jason grew up in Birmingham, and moved to Hong Kong in 2010. In 2015, Jason and On-Ying LAI launched their own brand Yat Pit, (which means 'one stroke' or 'first start' in Cantonese.) The eccentric and visionary label began with a loose sense of the "lost Chinese-ness" that ended up at the core of the brand. Yat Pit's designs are nostalgic with modern, androgynous twist; their first collection was photographed by the late Ren Hang. Rapper YoungQueenz made a song titled "Yat Pit" and had the MV shot at their studio.
What's your favourite Chinese idiom related to body & sensation?
身體力行 (practice what one preaches). I like to think of myself as very mindful, aware and awake. I'm very in tune with my own being and why I exist in this world. Everything I do is the puzzle pieces to my journey and my growth. How you carry your body shows what your mindset is. Yukio Mishima and Bruce Lee speaks a lot to me, their philosophy, art, and journey of creation; what I am doing is similar. Their bodies also refer to what to they preached. Be it karate or martial art, every muscle of them speaks what they are thinking.
What would you like to do with Yat Pit?
As a creative of this generation, we have a different elements and platforms to reach out to lots of people. Yat Pit is a language, a voice, a platform, speaking to the world, to look at Hong Kong in a different sense to China. We wish to preserve the cultures of Hong Kong. To make Chinese clothing relevant to nowadays life. Chinese clothing isn't a trend. It can be merged into everyone's wardrobe, becoming your daily wear, your suit, denim and t-shirt.
What do you like most about Hong Kong & Sham Shui Po where your home and studio are?
I like Hong Kong for the carelessness and that very unusual energy. It took me a long time to understand this catastrophic environment, you have to be with a certain kind of mindset and vision to spot and find the good things among all the chaos and craziness. The distracting environment of Hong Kong makes me more alter to things that I like.
Sham Shui Po presents a little bit of my personality. It's madness but there is a realness to that place. It's not fake.
It's dirty.
It's clean.
It's rich.
It's poor.
It's loud.
It's quiet.
I fall in love with it everyday. For me, it's the perfect Yin and Yang of places to thrive as a creative person.