Tiffany Godoy Speaks with the Press-Shy Designer of TAKAHIROMIYASHITA TheSoloist.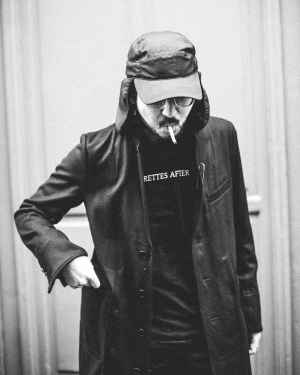 The Japanese may be the last real designers living. You feel it especially in menswear lately. In a sea of creative directors hawking infinite hype, Takahiro Miyashita speaks a language that doesn't rely on cheeky graphics, celebrity co-signs, or social media velocity. His expression coheres in wearable, modern day sartorialism—check the lining of one of his jackets for TAKAHIROMIYASHITA TheSoloist., the label he started in 2010.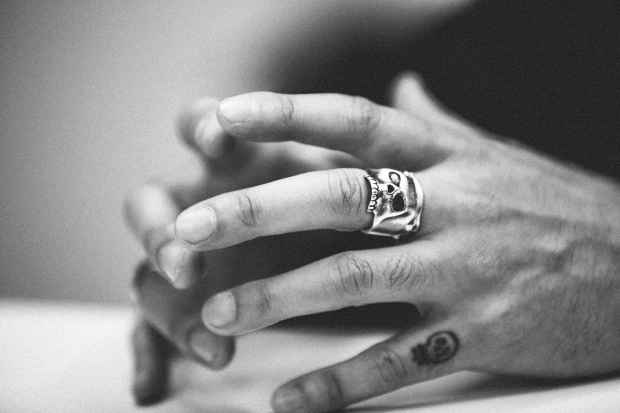 If you don't already know Miyashita, start Googling. His first line, NUMBER(N)INE, which he started in 1996, was cult worshipped—appropriate, considering the name was a Beatles reference and Miyashita's output is grounded in referential obsession to his twin loves, music and cinema. NUMBER(N)INE was a dark horse, a tattooed tear running down its reserved creator's cheek, its archives packed with armies clad in rainbows of black, Miyashita's sacred shade.
Miyashita folded NUMBER(N)INE suddenly in 2009. A year of silence, and then, in 2010, he resurrected with TheSoloist. His palette broadened, his fabrics became more delicate, the vibe shifted from moody riders on the storm to something folky and feminine.
Since then, he's been on a long and winding road that finally led him back to the catwalk. In October 2017, he made his runway debut as TheSoloist., showing his Spring/Summer 2018 collection at Amazon Fashion Week's TOKYO—a homecoming for the last wave of Japanese designers to go global, with Sacai, Undercover, and Miyashita all showing. Then, in January, he showed alongside Undercover as special guest designers at Pitti Uomo, his passage entitled disorder/order. The runway missed Miyashita, and it seems the feeling was mutual. "I can never express what I want to say in words, verbally," he tells me. "I express what I want to say in clothes. I don't think I was fully expressing what I wanted to say at my presentations in the past. For me, doing a show is the best way to express my feelings."
Miyashita is notoriously guarded, but when we met in his Marais showroom during the Paris men's shows, surrounded by his Pitti collection and with one of his new favorite bands, Cigarettes After Sex, playing in the background, he opened up.
Tiffany Godoy
Takahiro Miyashita
How did you find fashion when you were young, Miyashita-san?
I was probably the kid who loved clothes more than any of my friends or anyone else in the environment that I was in. But at the same time, I still can't believe that I became a fashion designer. I don't think it's easy to become a designer, so I still can't believe this is real. I don't think I've fully become one. I'm still learning.
I've known you for 15 years or so now and I always feel your passion, your total respect for clothing whenever we speak. You're from Tokyo, right?
As a kid, what was that fashion interaction? What kind of clothing did you like?
My fashion sense was heavily affected by American culture. I mean, the music was coming from England, too, but when you're a kid, you don't care if the Beatles were American or British. You were just thinking that everything was coming from America.
Were you wearing vintage pieces back then? I know in Tokyo it became popular in the early 80s.
I was, yes. My family was not that wealthy, so I had to buy vintage sometimes. After I turned 10 years old, I went shopping whenever I wanted and got clothing that I liked. Even just looking at it was so much fun. I liked everything around clothes. Music. Movies. People. Drawings. Architecture. Everything. Everything around clothing. For example, I watched some Coppola films, which made me want to buy lots of pairs of jeans, or t-shirts, or bandanas.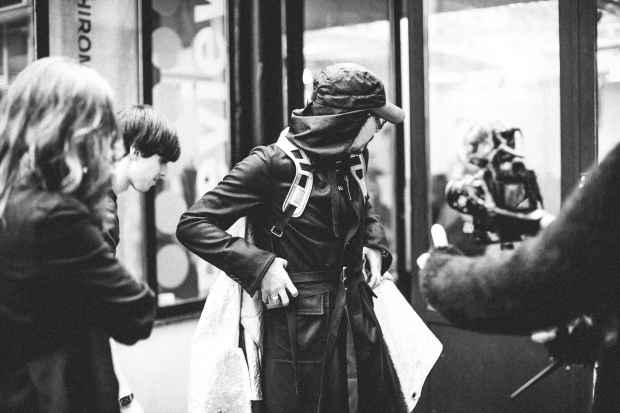 Your all-black collections, or your collections that focus on a specific theme, like Kurt Cobain—they made me realize how hardcore and disciplined you are when you zero in.
Black is the most tricky color, I think. It could look like blue, green, or even red. It could look like any color. It has all colors in it. I think it's the scariest color. Probably the most difficult color to wear because it has all colors in it. But then, because I know that it's difficult, it's always in my mind, especially these days. I want to somehow find a way to express black in a different way from everyone else.
That's exactly how I see you. It's like you are writing a love song with black.
I've been trying to write one, but it's not there yet.
People might have felt that your collection at Pitti Uomo was a bit apocalyptic, or a bit dark. But your interpretation was completely the opposite—it's not an ending, but a beginning.
Well, there are many meanings between the lines. But I didn't really look back to the past when I was designing this collection. I was only looking forward. I think the dark side or melancholy side could be more like a reflection of me internally.
Did you feel that through fashion you could hide behind an image or a character?
That process of protection could be happening with the last few collection of mine—hiding oneself or one's existence. But, this time, I was feeling more like surviving, walking with steady steps or moving forward. I know it still looks dark, though. But dark can be beautiful.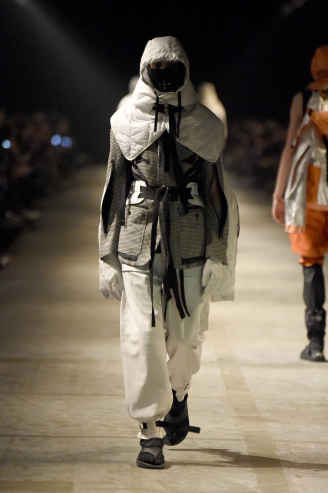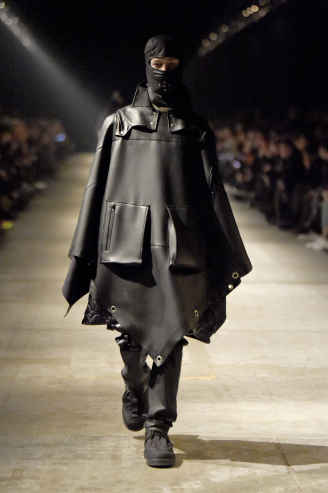 You managed to use a bit of color though, right?
Yeah. The orange—I made it by demolishing a sleeping bag. This brand called Sol makes emergency survival sleeping bags. So, in my head I created this emergency evacuation as an escape from reality. I've found myself frustrated with a sort of angst towards what is happening in fashion at the moment. This made me think about emergency survival outfits to move forward to the future.
Music and film are a big part of your life. References are sprinkled throughout collections, and on your Instagram. It seems like you create costumes to accompany them in a way.
For me, music and films are the most important sources that I use to make clothes. I'm not a film director or music composer, but I use both so much that I should really apologize for over-referencing.
You consume a lot, like I, Tonya and The Post—really commercial films as well as very artistic ones. I'm always like, "Oh, you're watching that, too!?"—surprised at what's on your radar.
The last thing I want to do is categorize things. I don't want to say I'm independent or major. I do not want to belong to anything. I might want to belong everywhere. So, I would never want to say I don't like something even before I hear or see it.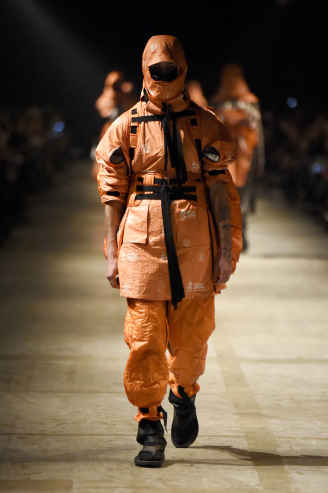 All of these things are creating culture. Makes me realize how you see the world— super-flat and wide-eyed.
For me, it does not matter if you are man or women, or if you are very famous or not. If you are doing something that is cool and/or beautiful, I don't care who you the hell are.
You were doing NUMBER(N)INE until 2009. Those collections still look so relevant for today. Your heroes of the moment, the Axl Rose collection in 2006—
I can only say this now, but the Axl Rose collection was supposed be the Stephen Sprouse collection. I had been a big Stephen Sprouse fan, and I knew that he had worked with and influenced Axl Rose, and even Blondie. At that time, everybody was saying, "Axl Rose! Axl Rose!" So, I was like, okay, let's go for that. [Laughs] I always start a collection with a certain idea, but because I never explain what my collection means, sometimes what people say about my collections could be totally wrong.
So, you realize people, like me, are totally incorrect, and you never clear it up!
I think that's fashion, though. I think it's very interesting to see what people feel. I have no right to ask them what to say or do. If I did, it would be very boring.
What do you think is the biggest difference in your designs between now and when you started?
I can't really see where I am without taking the next steps. One thing I would say though, is that during the time I was working on NUMBER(N)INE, I hated it when people told me that the design was "so NUMBER(N)INE" because it felt Iike being confined to what people expected of the brand. I want to learn, keep changing, and use different and new lenses every time. I don't want to repeat the same things.
Since you want to continue your fashion journey in new and different ways, any particular ideas?
The only thing that I wanted to accomplish was—I probably shouldn't mention… [Laughs]
Men's traditional clothes all look the same. A blazer in navy with grey pants, etc. Why would people only want to see a certain type of clothing for men? What I want to do is like what Jun from Undercover and I have been doing—variety, and a wider view. Clothes should be in colors, and with dreams. I want to widen the lens for people in the fashion industry. And I want to remove the wall—like the one in Berlin. You know, there are some people who are still trying to build a wall. I shouldn't mention this too much, but I just want to remove any wall that is not necessary. I make clothes for men, but I would love women to wear my clothes, as well. I don't differentiate in gender. I wish the-se dangerous segregations could be gone. I want to deliver that kind of message through clothes.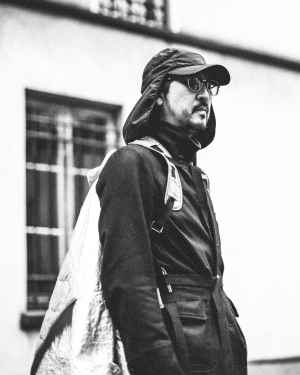 Tiffany Godoy is the Editor in Chief of the soon-to-be released The Reality Show Presents. She is a contributor to Vogue Runway, she has created content for Cartier and Valentino, and she recently hosted Chanel's 3.55 podcast.
Interview: 

Tiffany Godoy

Photography: 

Alessandro Simonetti (Takahiro Miyashita Portrait Images)

Images/Photos Courtesy Of: 

TAKAHIROMIYASHITA TheSoloist